Promote
We help promote your business to the greater Blue Ash community by providing an online directory.
Enhance
Our business members help enhance the Blue Ash business environment and community by volunteering at community events and supporting the city of Blue Ash.
Improve
Our membership helps improve the Blue Ash business environment and the Blue Ash community by holding networking events that help promote our membership and the Blue Ash community and providing goods and services needed by the Blue Ash community.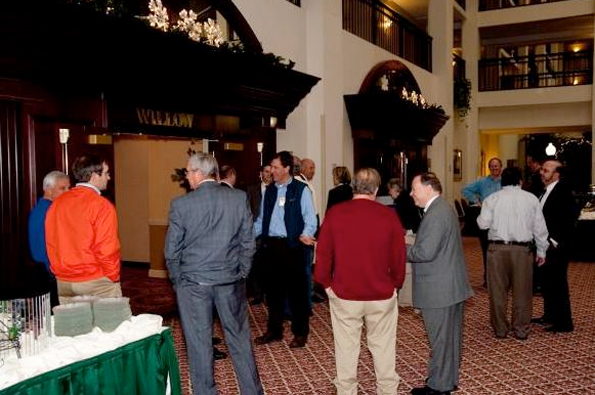 Promote
Blue Ash Business Association (BABA) hosts monthly get-togethers on the first Thursday of every month (excluding July) where members and guests have the opportunity to network with other business people over food in a casual atmosphere. Attendees share business cards, discuss opportunities or recommend potential new business to expand your contacts throughout the community. Dates are listed on the BABA website calendar.  Two of the three meetings each quarter are luncheons at member restaurants with the third being an evening get together 4:30 – 6:30 at a member location so all work schedules have an opportunity and the hosts can showcase their business.
In addition, there are quarterly educational seminars and coffee time from 8:30 – 10:30.  Again, check our calendar for dates/topics/locations.
Small Business Development
Approximately 70% of our Blue Ash Business Association(BABA) membership is composed of companies that employ up to 50 employees. BABA meets their needs through member-to-member discount services/products, educational seminars, etc.
Economic Growth
Blue Ash Business Association is dedicated to helping new businesses by connecting them to our Membership team who can offer assistance.
Giving back to the community
July 4th, Red, White and Blue Ash spectacular air and ground displays of Rozzi fireworks provides BABA the opportunity to host a Craft Beer booth during the event (4:00 – 10:00) where all of our tips go to a worthy, local charity.
We are taking a few years off from offering a scholarship to give back to the community in other ways.
Member Spotlights
The Member Spotlight is a feature for our members to tell us more about their products and services in their own words. The Member Spotlights help both Blue Ash Business Association members and website visitors learn more about the spotlighted members.
DID I 

REGISTER FOR AN EVENT?
When you attempt to register for an event for which you are already registered you will see the following message:
You're going to this event! View your order.
CONTACT US

Our Board of Directors is available to answer any questions you might have about the Blue Ash Business Association.
Our Member Directory

All members have a listing on the Blue Ash Business Association website. The member directory is searchable by business category, member's name or business name.
Member Directory Map

View the locations of our members on one map.
Member to Member Benefits

Learn more about the Member to Member Benefits offered by our members.
Join BABA

We are always welcoming new members!
PAY DUES

If you are renewing your BABA Membership.
NON-MEMBER EMAIL SIGN UP

Join our email list and you will receive information on upcoming events. Please complete the information below and click SIGN UP.
BLUE ASH COMMUNITY AND BUSINESS GUIDE

The 2017-18 Blue Ash Community & Business Guide is a great resource for information on the city of Blue Ash and its business community.