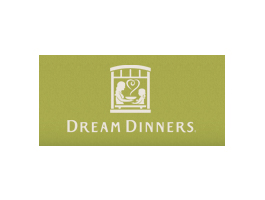 DREAM DINNERS BLUE ASH
1. What are some of the products and/or services offered by your company?
Dream Dinners is an innovative concept in meal preparation that eliminates stress by taking away that nagging question of, "What am I going to make for dinner tonight?" It removes all the meal planning, shopping, prep-work and clean-up by moving the meal assembly process out of your kitchen and into our store!
Our guests preview a monthly menu online at dreamdinners.com and select their dinners from the 17 meals featured.  Each month we offer a new menu. Guests can elect to assemble 3-serving or 6-servings meals, in any combination that works best for their families. Guests then register to attend a convenient session at our Dream Dinners Blue Ash location on Kenwood Road.
When it's time for their session, our friendly staff greets them and explains the process of assembling a month's worth of meals in about an hour.
Dream Dinners allows our guests to provide their families with nutritious, wholesome, home-cooked dinners with less stress leaving them more time to enjoy their families.
2. What are some of your company's successes or achievements that you would like to share?
Our mission at Dream Dinners is to Grow Great Kids by getting families back around the dinner table. Connecting with your family, even if it's only for 20 minutes a day, helps grow great kids! While we are a food service company and a solution to dinnertime challenges, food is our vessel for changing lives. Taking time to eat together and stop the busyness of life to reconnect with your spouse and kids can ultimately help save marriages and keep kids off drugs and alcohol. Someone will always complain about what's for dinner. You never can please everyone. It's not about what you serve for dinner. It's about taking time for what's most important in life. Dream Dinners makes dinnertime easier for you to have those important moments with your family!
3. What sets your company apart from others in your industry?
Unlike other meal assembly companies, we are not a membership. There is no commitment to order on a monthly basis, although we find most of our customers do! At Dream Dinners you can also customize your meals based on your family's tastes. You order meals your family will enjoy rather than being shipped the standard "meals of the week. We are a store in your local community that is dedicated to customer service and serving your family.
4. Do you have any member-to-benefits that you would like to offer to the members of the Blue Ash Business Association?
You  are invited to be our guest at a DREAM TASTE EVENT to experience Dream Dinners firsthand!
Sample delicious entrees

Assemble 3 dinners (9 total servings) for FREE!
Call 984-9866 or email blueashOH@dreamdinners.com for more information.
5. Is there any additional information that you would like to share about your business for your spotlight?
Dream Dinners is not an addition to your monthly food budget. In fact, guests that use Dream Dinners actually save over $200 a month on their food bill and waste less food.
Our guests also save over 20 hours a month in planning, shopping, food preparation and clean up.
CONTACT US

Our Board of Directors is available to answer any questions you might have about the Blue Ash Business Association.
Our
Member Directory
All members have a listing on the Blue Ash Business Association website. The member directory is searchable by business category, member's name or business name.
Member to Member Benefits

Learn more about the Member to Member Benefits offered by our members.
Join BABA

We are always welcoming new members!
PAY DUES

If you are renewing your BABA Membership.
NON-MEMBER EMAIL SIGN UP

Join our email list and you will receive information on upcoming events. Please complete the information below and click SIGN UP.
BLUE ASH COMMUNITY AND BUSINESS GUIDE

The 2017-18 Blue Ash Community & Business Guide is a great resource for information on the city of Blue Ash and its business community.